Wanna be a millionaire? So did the ninety-seven teams still hoping to get in the hunt on the final day of the 23rd Annual Bisbee ECO! With the first two days of fishing behind them, a few awaiting the 7:30-am start were hoping to add to their successes.
Joe Musich aboard "Buena Fortuna" released a dorado 25 minutes after the flare gun went off – the first fish of the day. Hopefully, he would live up to the name of his boat, translated as "Good Fortune!"
Shortly after his dorado came a yellowfin tuna on "Vamoose" by angler Mike Lane who released a 37.1-pounder. Next, Kurt Ziegler aboard La Patrona released a sailfish, boosting the hopes and dreams of the other 94 teams in search of "THE BIG ONE" that could win them a sizable portion of the $1,000,000+ in prize money left on the table.
Remarkably, all targeted species of the event had been found in less than an hour!
Throughout the morning and into the afternoon, radio chatter and CatchStat reports underscored the abundance of dolphin (dorado) in some areas on the grid, resulting in a steady stream of hopeful teams arriving at the weigh station with their best catch of the day.
Although there were a total of four yellowfin tuna brought to the weigh station, none managed to exceed the 40-pound minimum weight, even though some were close.
Friday, August 5, 2022 Scale Weigh ins
1 Freebird Roberto Velazquez Dolphin 42.5
2 Five More Minutes Roberto Hulsey Dolphin 40.5
3 Real Acquisition Alberto Araiza Dolphin 40.3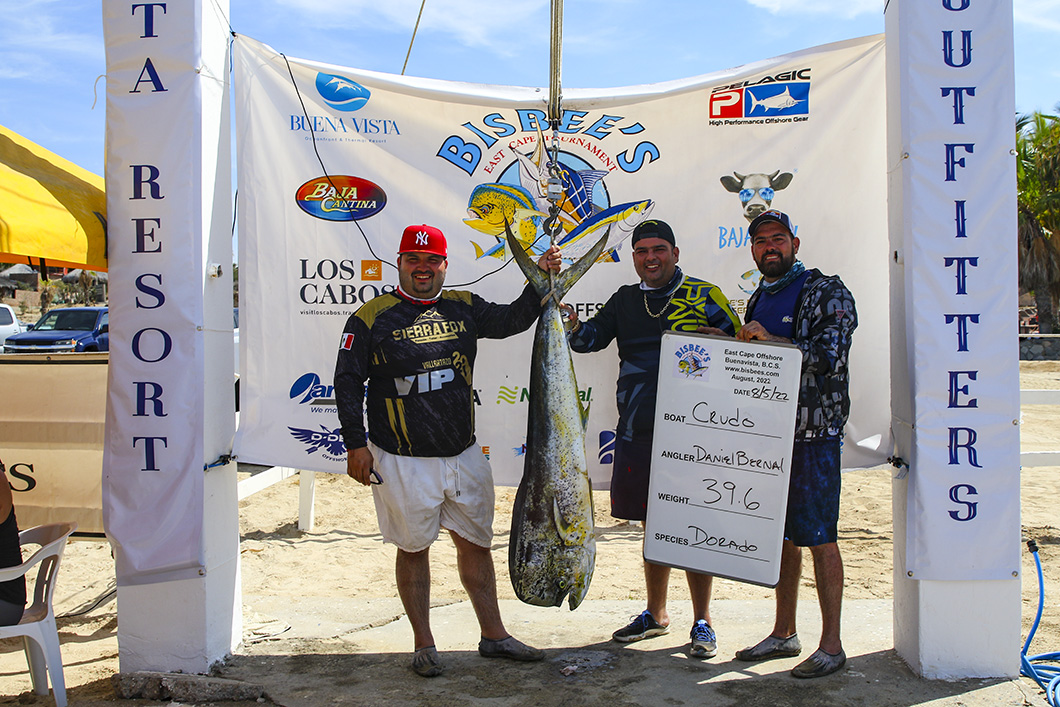 4 Team Crudo Daniel Bernal Dolphin 39.6
By the time, the Team finally closed the Weigh Station at exactly 7:30-pm, the total number of fish caught for the day was as follows:
Black Marlin 0
Blue Marlin 7
Dolphin 18
Sailfish 19
Striped Marlin 28
Yellowfin Tuna 4
Catch Count 76
CELEBRATION! 7:00 - 9:30-pm Individual checks will be awarded to the winning Teams at the Buena Vista Oceanfront and Hot Springs Resort.
Don't miss this event! Come see if one of the Teams did in fact score a MILLION DOLLAR CHECK!